Stop the violence by the mining industry!
Kinshasa 27.08.2021
A cura di Jpic-jp.org
Translated by: Jpic-jp.org
The community of Buenos Aires in northern Ecuador is peacefully resisting an Australian company that wants to mine gold and copper in their mountains. Local people are asking the authorities to guarantee their human rights and respect their opposition to mining.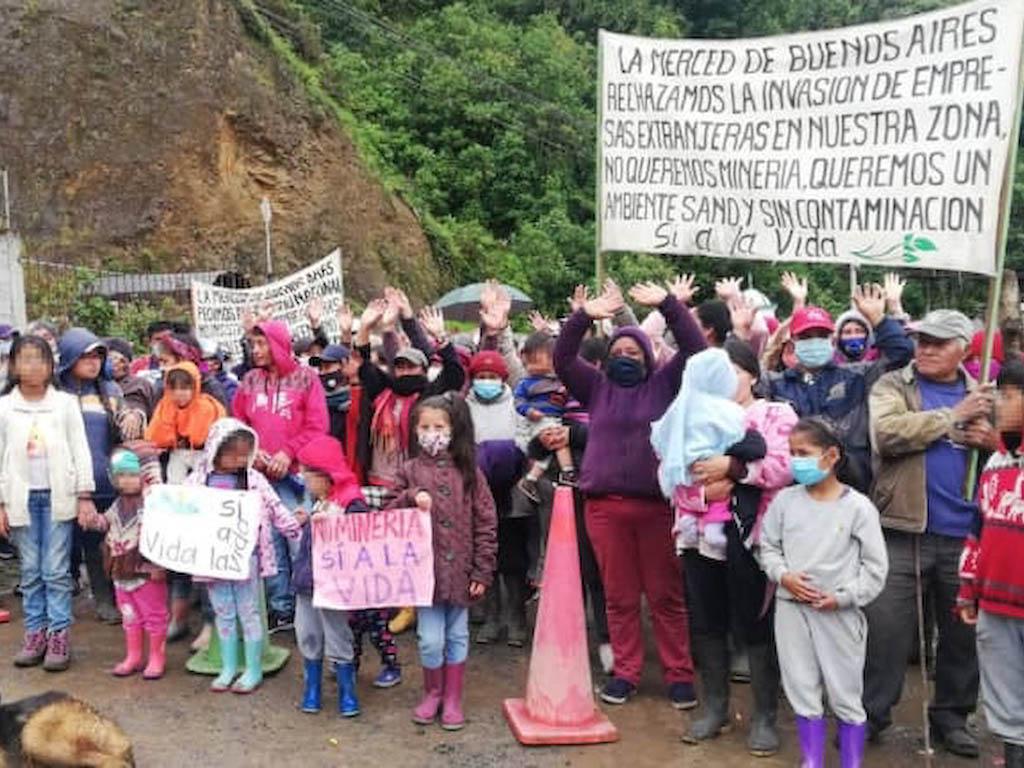 The discovery of gold in an area foments illegal mining. The vigilant and determined inhabitants of La Merced de Buenos Aires want to defend their territory from the large-scale Hanrine opencast mine. A destructive and polluting mining activity that has already severely damaged the land, rivers and peaceful life based on agro-forestry.
At the moment, the situation is complex.
On Monday, April 19, 2021, the community experienced a new invasion. For security reasons, the testimonials are anonymous. Residents denounce that the Hanrine mine company, an Ecuadorian branch of the Australian Hancock Prospecting, has begun to intimidate the local population entering the territory of the community, claiming to have the due documents. However, things are not like that. In fact, The Coalition of Human Rights Organization of Ecuador states that the company does not have the permits required by law, such as the Environmental Impact Assessment (EIA), and approval from the Ministry of Environment and Water. According to a report by the Controller General of the State (2020) - informe de la Contraloría General del Estado (2020) - the concession to extract gold and copper was issued when the mining office was closed.
The population of Buenos Aires started a peaceful protest, gathering and blocking the road. They later organized an indefinite vigil (see the video), which monitors the only way of access, without letting the company's vehicles pass.
A serious mining conflict is, therefore, underway as it is often the case with this destructive industry. For this reason, the inhabitants of La Merced de Buenos Aires have launched a campaign asking the international community to sign an urgent petition to the Ecuadorian authorities and the mining company telling them to respect the decision of the community, and that the world is observing them. Give your help by spreading this message sent to the Ministry of Environment; Ministry of Non-Renewable Natural Resources; Mayor of the Municipality of Urcuquí, Tirone Vega Gaybor; the Government of the Province of Imbabura, Governor M.ª Gabriela Jaramillo Puente; Municipal Council; National Police. They ask "To guarantee consultation and respect for human rights in the canton of Urcuquí, Parish of Buenos Aires (Imbabura), in Ecuador. Respect the community".
This petition is also available in the following languages: German, Spanish, French, Indonesian, Italian, Dutch, Portuguese
To find out more and sign the petition see Stop the violence by the mining industry!