When will the world start to care about South Sudan?
The Tablet 08.03.2018
Ruth Gledhill
Translated by: Jpic-jp.org
Bishop Anthony Poggo was a bishop in South Sudan until he was appointed the Archbishop of Canterbury's adviser for Anglican Communion Affairs and moved to London. On a recent visit back, one thing that shocked him was to see how his former chaplain was living. The Anglican priest called it his "home". But it was little more than a small box, with a polythene sheet for a roof.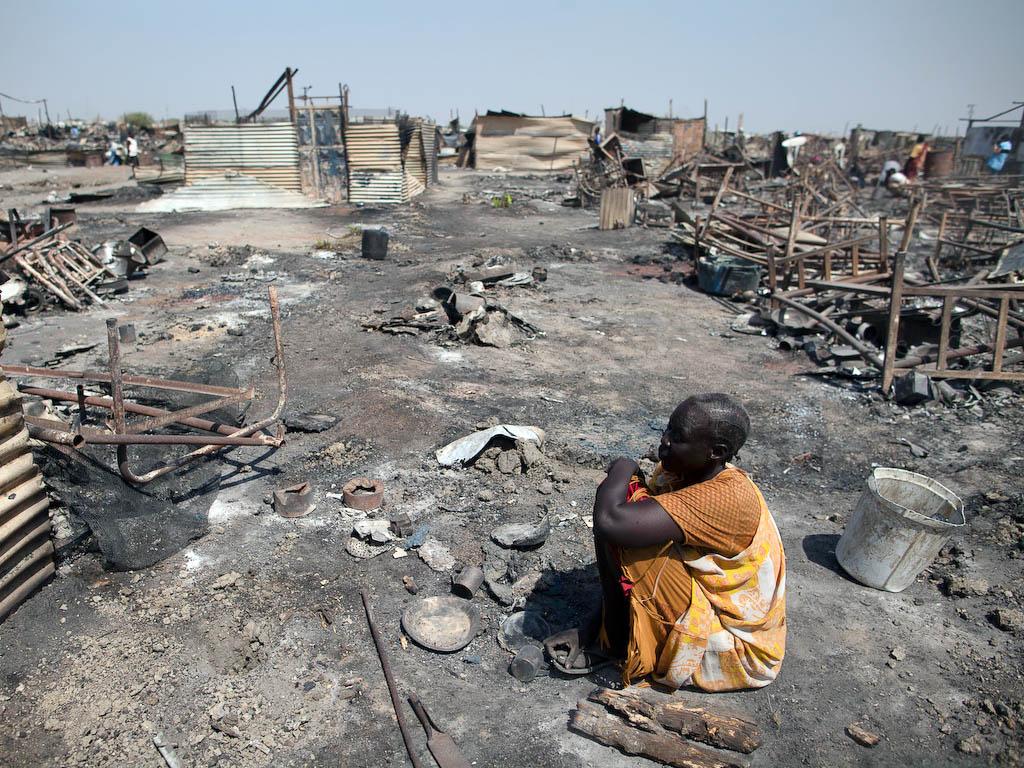 But this is just the least of the many traumas afflicting the world's newest country, plagued by desperate civil war since soon after it gained independence from Sudan in 2011.
The Catholic bishops' own expert on Sudan, Auxiliary Bishop of Birmingham William Kenney, described how rape is being used as weapon of war, how the fighting and killings are relentless. Some of it is fighting over the country's substantial oil resources, some of it is warlords fighting among each other. Some is just because there are people who like violence.
He said: "I was in South Sudan in October last year. The effects of the civil war and of the famine are noticeable everywhere. Millions of people are displaced, and the country is facing real hunger, as crops have either not been planted or have been destroyed because of the war. The war is a complicated phenomenon with many different actors who change alliances at a rapid pace. The country seems to be awash with small arms, and in some areas rape is used as a weapon against the civilian population. In some ways we are looking at a country which has failed or is failing. This is so saddening as it has much which could make it into one of the major countries of Africa.
"Our Bishops' conference has been trying to give moral support to the Bishops of South Sudan, and probably the best hope of creating any peace or stability now lies with the churches of the country of which the Catholic Church is the largest. There have been many peace agreements between the major warring parties and all have quickly unraveled. Among those conducting the war there does not seem to be at the moment any will to create peace. The driving forces to the
violence are oil, land and the lust for power, which is then combined with tribalism.
"The rest of the world seems not to really care. There was some interest shown when the UN declared a famine in the country but by and large it has been almost impossible to arouse any interest among journalists. There seems to be even less interest among our politicians and perhaps this is what we should be doing: trying to interest our politicians in this situation. At the same time we do need to pray. Situations which seem to be hopeless, are always calling to God for justice, and we need to make that call to our Father in heaven."
Bishop Poggo, in the video above (see https://youtu.be/W-uS2qUZJlA), also spoke out after the Archbishop of Canterbury backed Pope Francis' call for a day of fasting and prayer for the people of South Sudan and Democratic Republic of Congo. Pope Francis specifically invited
non-Catholic brothers and sisters to join him.
Archbishop Welby said: "I support this call and invite you to join us – and people around the world – in praying that these terribly suffering populations will know peace. On my visits to both countries in recent years, it's been impossible to describe the overwhelming scale of destruction. These conflicts are causing terrible loss of life. Huge numbers of people have been forced to flee their homes, which is tearing apart families and communities. There are more than a million new internally displaced people. Famine is causing great suffering and danger. In South Sudan, up to 6 million people face starvation. Sexual violence and humiliation are being committed on the most atrocious scale in both countries.
"On my last visit there, I listened to a political leader tell me about the suffering and slaughter of her people. I visited a refugee camp in Uganda filled with South Sudanese children whose families had fled their homes to escape death. We are called to pray fervently for the millions of people who simply cannot take any more of this war."
Archbishop Welby and Pope Francis had hoped to do a joint visit to South Sudan last October, but it was postponed indefinitely as conditions in the country deteriorated even further. Bishop Kenney said: "My experience of it is it is a country in civil war. We are getting very near to a failed state. There is very little real law and order anywhere in the country."
He has been there six times, three times in Sudan, representing the bishops' conference. "The Vatican recognizes both countries. There is still just one bishops' conference for South Sudan and Sudan. There are just two dioceses in Sudan, and three bishops including one auxiliary. One of the problems is the large numbers of vacant sees and bishops waiting to be retired in South Sudan."
The country is rich in natural resources but has enjoyed little reward for this. Bishop Kenney said the conflict is related in part to tribalism – war lords fighting for dominance, politicians and others fighting, some simply because they like violence.
"So you have a very complex situation," he said. "We should pray. But there is more we can do. We have got to pray because we are in one of those situations where there is no obvious solution and that is always a sign that the Lord wants us to turn to him."
Another positive action that individuals in the UK can take is support CAFOD (Catholic Institute for Overseas Development). "They are doing good works there. It is a very dangerous situation for their workers. They do need our support."
People can also write to or go and see their MP to try and raise awareness. "It is not the only one but it is certainly one of the forgotten conflicts. It is not a country that people relate to. We
need to put pressure on MPs, the Foreign Office. Why is this conflict being forgotten? It is very ordinary people who are really suffering. You have a very nasty civil war. It is one of the places where rape is being used as a weapon. The Church is still very trusted and therefore people will tell me what's going on, even though they know we cannot do anything about it."